Longfellow students and the school as a whole benefit from strong relationships with community organizations.
Established in 1969, Journey House is a community organization that enhances education, reduces unemployment and crimes, strengthens families and revitalizes neighborhoods. Journey House has established a Community Learning Center (CLC) at Longfellow that has been enthusiastically received by Longfellow students, families and staff members. Within this partnership, a link is created between the home, the school and the community. Parents, community leaders and local businesses collaborate to devise and implement instructional strategies that strengthen and support the Longfellow curriculum. Please see the CLC tab for further information or click here.
Ernst & Young
Ernst & Young is a global corporate leader in assurance, tax, transaction and advisory services. This company aims to have a positive impact on businesses and markets, as well as society as whole. As part of its Education Counts campaign, Ernst & Young continues to donate backpacks to Longfellow students each year and has been donating money to MPS to be spent on school supplies for students since 2001. Ernst & Young has also coordinated volunteer efforts at Longfellow through Junior Achievement over the years.
Milwaukee Community Schools Partnership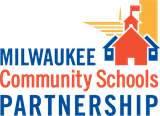 H.W. Longfellow is proud to be one of eight Community Schools in MPS where students, families, teachers, staff, neighbors and partners all come together to create a thriving learning environment for students.
In connection with United Way of Greater Milwaukee & Waukesha County, the Milwaukee Community Schools Partnership (MCSP) is a collective strategy to transform schools into a place where students, families, staff, and the surrounding community can work together to ensure every student is successful.
Family Resource
A variety of family resources exist within the community. The following stakeholders partner with Longfellow in an effort to reach out to students and families.
BASICS (Brothers and Sisters in Christ Serving)
Children's Hospital of Wisconsin
Clarke Square Neighborhood Initiative
City of Milwaukee (Mayor's Office and Aldermanic District)
Hunger Task Force
Marquette School of Dentistry
Milwaukee Police Department
Mercado El Rey
Pete's Fruit Market
Safe & Sound
Salvation Army – Coats for Kids
United Way of Greater Milwaukee & Waukesha County
and more.